I was attending college with a full-time schedule in the Spring Semester of 2001. It was the last semester of my Junior year. I was unable to make the trip until the summer. So, in the Spring, I left a deposit on the car and said that I would pickup the car (somehow) within 60 days from its current stored location in Wichita, Kansas. I did not have all the money at the time, and I worked very hard to get it. I sold off four of my other cars that I owned at the time (1984 Corvette, 1990 Corvette, 1979 Dodge Truck, and 1989 Ford Probe), scrimped and saved on meals and various expenses, worked extended hours at my job, did yardwork on
the weekends, and sold things on eBay to get the money to pay for the car.
I was still short on funds with about 30 days left until I had planned to pick up the car. So I worked harder and harder, longer, and longer. It was close, but I got the money together, all by myself. And I knew that the car would soon be mine. With money in hand, I wanted the car, and I wanted it NOW! But I had to wait until school was out. I was almost done with exams and here was my chance. A sporadic trip, with one day's notice.
I called up Ed, and told him to prepare for the journey. The day before I had sold the rear clip of a Corvette and had to deliver it to Mississippi.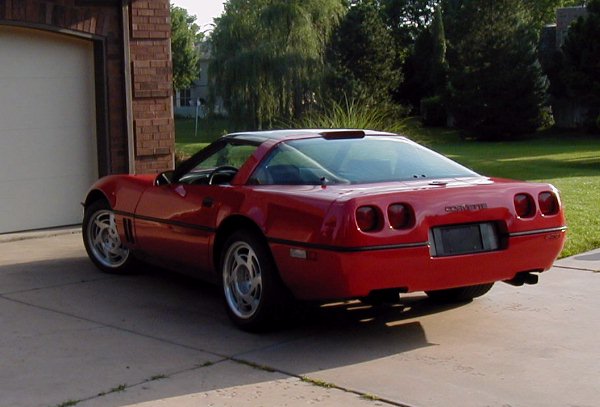 So, we loaded up his truck, hooked up the trailer, chopped the car in half, loaded that on the trailer. And headed out on Friday afternoon. The driving time to Mississippi from NC, and from MS to KS was 22 hours. We had a weekend to do it.
So here I am, I have 3 Corvettes now, a 1984 White Coupe (now my dad's), a 1992 Yellow Convertible, and a 1990 Red ZR-1. The ZR-1 is the 6th Vette I have owned with all of my hard work. My previous Vettes (since sold) were an 84 Silver Z51 Coupe, 90 Yellow Coupe (6 speed), and 1992 White Coupe. At the age of 21, I amassed an impressive collection of cars, 3 of them now Vettes. I am proud of my accomplishments and of my great cars. I continued back at my Senior year at College while having the joy of driving a ZR-1 around campus. It was a blast, it made being a commuter student, a benefit, rather than a detraction. I'm just waiting for the real world to set in, because right now seems like a dream. A dream that became a reality!-C.J.